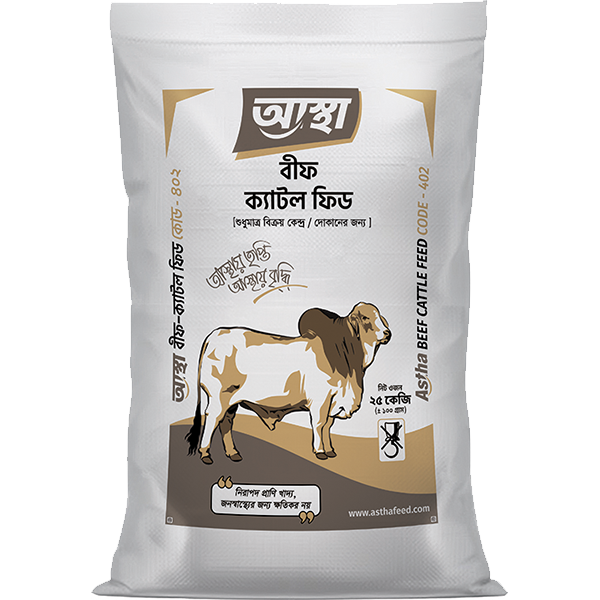 Beef Cattle Feed
Type: Pellet
Ingredients: Maize, Soybean Cake, Full Fat Soybean, Protein, Rice Polish, Essential Amino Acids, Enzymes, Anti-Oxidant, Vitamin, Mineral Premixes and other Feed Additives.
Storage Instructions: 
Store feed in a cool, dry, well-ventilated area.
Rotate stock to use old feed first. "First in, first out" principle.
Keep bags stacked neatly on pallets to prevent feed from being in direct contact with damp floors.
Bags should be stacked to allow at least 18 inches between walls and upright supports. This allows for cleaning and placement of traps/bait boxes. This also prevents condensation on walls from damaging feed and permits necessary air flow around the bags.
Keep different types of feed separate and clearly marked. Be particularly careful not to mix bags of other feed together.
Pack sizes: 50 kg
Packaging Type:  Dual side laminated moisture protected high quality PP bag
Shelf Life: Within 45 days of packing
Nutritional Values (% Maximum): Humidity (Maximum- 11.00), Crude Protein (Minimum- 15.16), Crude Fat (Minimum-4.00), Crude Fiber (Maximum-8.00), Calcium (Minimum-1.50), Phosphorous (Minimum-0.40), Metabolic Energy (2400 Kcal/Kg), Vitamin & Minerals (As needed).
Features
Feed binders, No colors
No ammonia, No urea
No hormones, No stimulants
No harmful chemical treatments
Mash / Pellet form
Micro nutrients are kept intact
Best management of dietary fiber
All weather suitable formulations
Highly palatable and nutritious
Wide testing in all general breeds in Bangladesh
Advantages
Manage digestive organisms
Enhanced immunity
Ensures best health
Stress free digestion
Best taste of meat
Significant increase in animal life
Contact For Price